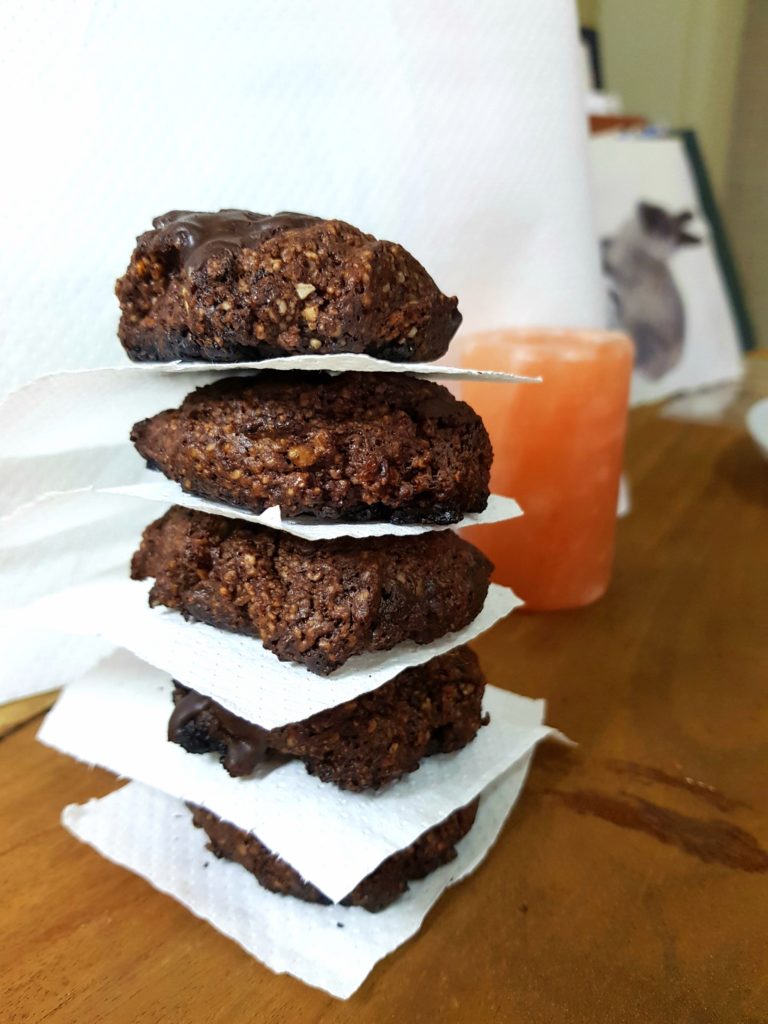 I have been trying out melon seeds (egusi) as an alternative low carb flour and so far i have made pancakes, muffins, savoury puddings and drinks. I will be Sharing these recipes soon.
Melon seed is from the gourd or squash family and its similar to pumpkin seeds, grown mostly in West Africa. It is higher in nutrients compared to pumpkin seeds.
The rich nutty flavour of the seeds are overpowering, however using a stronger spice like nutmeg helps camouflage the flavour.
If you prefer you don't have to add spice.
For these cookies I also added some chopped  unsweetened dark chocolate and  3 Tbsp. heavy cream. You can add coconut cream if you prefer which helps give it a creamier after taste.
Psyllium husk was added  for binding however you can also try just baking soda and baking powder and still achieve the same results.
INGREDIENTS
120 Grams melon seeds
1/4 Cup cocoa powder
2 Tablespoon butter melted
1 Tablespoon Nutmeg
1 Tablespoon Cinnamon
1 Tablespoon Psyllium husk
1 Teaspoon baking powder
1 Teaspoon baking soda ( optional)
1 Egg
1/4 Cup sweetener
3 Tablespoon heavy cream or coconut cream
2 Pieces of unsweetened dark chocolate (80% cocoa) chopped
Brown paper
CHOCOLATE SAUCE (OPTIONAL)
50 Grams unsweetened dark chocolate
1 Tablespoon butter
METHOD
In  a bowl mix all ingredients together.
Mix well until it can make a dough.
Line your baking tray with brown paper .
Use a spoon to form cookie shapes.
Makes 10 pieces.
Bake in a pre heated oven for 12 – 15 mins at 180 degree celsius.
Chocolate sauce
Place  chocolate, butter in a glass bowl.
In a cooking pan add 1 cup of water and heat, Place glass bowl over pan make sure the water doesn't touch the base of the bowl.
Let it simmer for 5 minutes, stirring occasionally until it is completely smooth.
Remove from heat and use as required.
NUTRITIONAL VALUES (PER PIECE WITHOUT SAUCE)
Carbohydrates- 3.3g
Protein- 3.6g
Fat- 7.7g
Calories- 97
Join the 45 day challenge to lose weight effectively.